Restorative Dentistry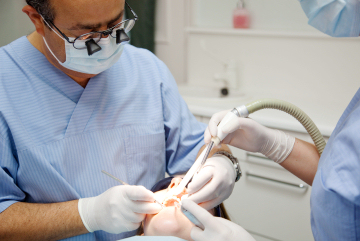 Many people experience a wide range of dental problems due to tooth decay, gum disease, jaw joint problems, abscesses or even accidental damage.
It is always our intention to save and rebuild, rather than remove, problematic teeth whenever possible.
Restorative dentistry allows us to repair damaged teeth and gums with the latest techniques whilst missing teeth can be replaced with modern prosthodontic skills to achieve optimal comfort, function and appearance.
We can recommend and provide treatment for our own practice patients and assist, as requested, those patients referred by their own dentist.
Replacing Teeth with Implants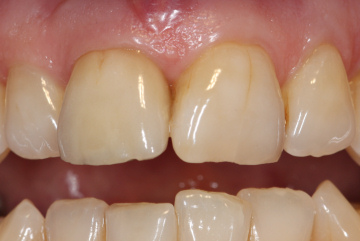 In the 1950's, Swedish scientist Professor Brånemark observed that titanium implants could bond to bone - a process called osseointegration.
Over fifty years of research into dental implants means that removable dentures are now avoidable for most people.
Predictable osseointegration techniques are widely available to help patients with missing teeth and little hope of a confident smile or adequate chewing ability.
Without compromising adjacent healthy teeth, implant supported replacement teeth predictably restore excellent function and a natural appearance as above (left front tooth as viewed) after eight years of good service.
Managing Worn Teeth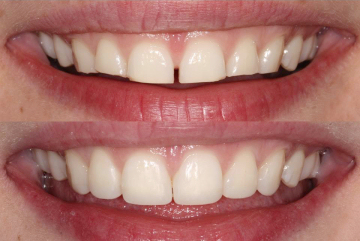 In contrast to tooth decay and gum disease, and as we live longer and keep our teeth longer, an increasingly common problem is teeth which simply wear down or dissolve away to varying extents as time passes.
Over 75% of adults and 50% of children show signs of tooth wear from abrasion, attrition or erosion resulting in loss of enamel and dentine and teeth which may become short and unattractive as well as rough or sensitive.
Whilst an early diagnosis allows for effective prevention, teeth that have become significantly worn can still be restored as above with the latest materials and techniques to ensure satisfactory function and a pleasing appearance.